Merel Bechtold is the lead guitar player and founder of Purest of Pain, a death metal band from Hilversum, Netherlands. Since the release of their 2011 EP, Revelations in Obscurity, Purest of Pain has played many high profile shows, festivals, and awards events in the Netherlands, and their bright future has more in store for them, including a headlining tour in France this October, 2012. We are stoked to interview Merel for QueensOfMetal.com!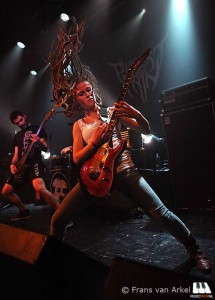 QueensOfMetal.com: Purest of Pain has been together since 2008. How did it form?
Merel Bechtold: Well, I founded the band in 2008, but the real Purest of Pain in its current lineup was formed in August 2010. We have had a few lineup changes and got rid of the old songs. Purest of Pain was reborn.
QueensOfMetal.com: Purest of Pain has been nominated for and won awards in the Netherlands, including a nomination for Best Live Act Award by 3voor12, Gooise Goden, and Clash of the Titans 2nd place winner. Can you tell us about these experiences?
Merel Bechtold: Our first show with the 'new' Purest of Pain was at the Gooise Goden, a local band competition, in September 2010. We won out of 5 bands which was a great and very encouraging start for us. It was a sold out show in a pretty big venue! Then we participated in the Clash of the Titans during the winter of 2011. It was competition between 60 bands, none of which were metal bands. It were all great bands in this competition though. At the finale, sold out also, we ended second, because the other band made lovely indie rock which of course is 'better' than metal music, haha. Although we were a bit disappointed, we received great reactions. In May we struck again in our home town and won the 'Grand Finale' of Gooise Goden. In the period of autumn/winter 2010 and spring 2011 we have played many shows. Mostly with other small bands, but it was a good way to get some stage-experience. Then, in August, we played our first really big show with Unearth, Evergreen Terrace, Bane and Nasty. From that moment on it really started rolling. We played Occultfest with Onslaught (UK) and a support show for Torture Squad (BR). In December we got an e-mail that we were nominated for the 3VOOR12 Award 'Best Live Act'. In the Netherlands that's one of the biggest platforms for music journalism and criticism, so that is something we are very proud of.
QueensOfMetal.com: Can you describe for us one of your favourite shows you have played (little or big show), and why it was so amazing?
Merel Bechtold: One of the best stage moments was in July 2012 with Suicide Silence. A sold out show with one of my, currently, favorite bands Suicide Silence (USA). The crowd went crazy. It wasn't our best show but it was one of the best feelings I ever got. At the end I even stage dived myself, with my guitar!
QueensOfMetal.com: as you have alluded, Purest of Pain has played with a number of popular metal bands, including Cattle Decapitation, Suicide Silence, Attack Attack!, Unearth… What is it like playing with these bands, did you have any other interesting experiences?
Merel Bechtold: I really like to play with popular metal bands, because, as a support act, you need to get the crowd moving and that is a real challenge. Also I learn a lot from playing with these bands. I take a lesson from their performances and sometimes get some tips and tricks on management or guitar playing. The nicest thing is that most of the bands come watch our show. We as a band, as well as me as a guitar player, always receive very good reactions.
QueensOfMetal.com: Does Purest of Pain have plans to record a full-length album, and when can we expect to hear that?
Merel Bechtold: We have some plans, but I'm slow at writing songs, because I'm really busy and also a perfectionist. Also my ideas and taste of making music are changing, which is something my band mates don't really like. That's also a big factor of slowing down the process. But we're thinking of perhaps recording a single with a music video.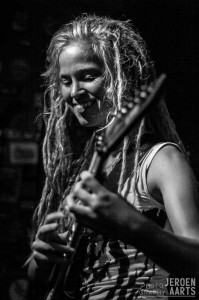 QueensOfMetal.com: You say your taste and ideas are changing. In what direction?
Merel Bechtold: Currently I can't and I won't write the 'true' metal stuff anymore. My interests, guitar skills and ideas have changed or are improving, it's how you want to see it. Right now I am experimenting a lot, but I think that's a very logical way of developing.
QueensOfMetal.com: From your Youtube videos it looks like you have a number of guitars. Which are your favourite and what do you like about them?
Merel Bechtold: Yes, I have a lot of guitars. A lot of them are shitty, though. I want to sell them, but nobody wants them, haha. My favorite guitar is the Fender Telecaster '52 reissue. I only use it for school, not for metal, but I love the sound. My newest guitar is a seven-string Schecter Diamond Series. I love that guitar too, but I haven't found a metal guitar I really like yet.
QueensOfMetal.com: What would your dream guitar be like, if you built one or had one custom built?
Merel Bechtold: This might sound stupid, but I would like to have one my size. I am pretty small and sometimes I struggle with the size of the guitar and I think it looks ridiculous on stage. A Merel-sized guitar would be my biggest dream. Also, I would like to have the round and rolling sound of the Fender pickups mixed with the active EMG sound.
QueensOfMetal.com: You have been personally endorsed by ENGL amplifiers, and as a band, by Rockstar Energy drink. Did you approach these companies, or did they approach you? How has endorsement made a difference for the band?
Merel Bechtold: I have approached these companies. I especially like the ENGL endorsement, I love those amps! The sound is just amazing. I really want to grow into this company, but first I will have to get a lot better. Of course an endorsement makes a difference. Besides the personal advantages it makes you and your band look good to, say, promoters. It's also nice to support a product and to have a product support you as a musician and/or band.
QueensOfMetal.com: Judging from your participation in Netherlands mainstream awards and events, it seems like the Netherlands is pretty supportive of its metal bands. Can you tell us about the metal scene where you are?
Merel Bechtold: Well, it might look like Dutch metal scene is supportive, but it's not. It's very hard to impress the metal criticism, because they are really hard to convince. It even seems like the mainstream music media is more interested in Dutch metal bands than the metal media themselves. For example Textures are, quoting a national newspaper here, 'world famous, except in the Netherlands.'
QueensOfMetal.com: How long have you been playing guitar, and what got you into music, and metal?
Merel Bechtold: I've been playing the guitar for five years now. I became interested in music since I was four. When I turned six I started playing the piano. I was very passionate about classical music and when I turned twelve I discovered Ozzfest and fell in love right away. I rent the Ozzfest 2004 CD which had bands on it like Devildriver, In Flames, Lamb of God and Bleeding Through.
QueensOfMetal.com: Who are your favourite musicians and bands?
Merel Bechtold: I don't really have any favorite musicians or bands. I listen to albums, and when I really like a record, I listen to it for three or four months and then discover a new good album. At the moment I really enjoy 'The Black Crown – Suicide Silence', 'The Great Mass – Septic Flesh' and 'We are the Others – Delain'.
QueensOfMetal.com: Have you had any challenges – physical, mental, etc – learning/practicing/playing guitar, and how have you overcome them?
Merel Bechtold: It is always a challenge practicing and refining new techniques, and it will always be!
QueensOfMetal.com: You are attending Rockacademie. How has going to music school helped you as a musician, and in your band?
Merel Bechtold: I don't play metal music at the Rock Academy and that will never happen. I do learn a lot, though. I've got new ideas and inspiration for making music which I also use in new metal songs. The most important thing I learned is that I know where I want to go as a musician.
QueensOfMetal.com: Do you have any philosophies of life/living that help you or have helped you in the past, as a guitarist or musician, that you'd like to share with readers?
Merel Bechtold: Yes I do: Believe in yourself and do what you want to do! Never forget to have fun.
QueensOfMetal.com: What advice would you give women or girls taking up metal guitar?
Merel Bechtold: Learn from me that it doesn't make a difference whether you're a chick or dude and that size doesn't matter at all! Just go straight for your goals and stay who you are!
QueensOfMetal.com: Do you have any side projects, musical or other?
Merel Bechtold: I don't have any side projects, but at the moment I'm busy auditioning for a great band!
QueensOfMetal.com: And the band you are auditioning for – you probably want to keep who it is a secret, but will you let us know if you get in so we can post the news on our site?
Merel Bechtold: I will keep this as a secret, but when it's set, you are one of the first I will tell.
QueensOfMetal.com: And finally, if you had any super-hero ability (you can make it up, it can be totally silly) what would it be and why?
Merel Bechtold: I never thought about that. Perhaps I would like the ability to make time stop, so I have more time haha.
Thank you Merel for the interview! Best wishes in all your projects, and we look forward to hearing more music from you and Purest of Pain. \m/ \m/