We don't know if it is the sunny weather or something else, but California is the host to so many great female shredders. When we got a hold of Laura Christine who is located in San Diego, we wanted to use this opportunity to get to know her and her musical style better! Until we have a chance to meet her in person, here is a little bit of what she has to say. We sure hope to hear more from her: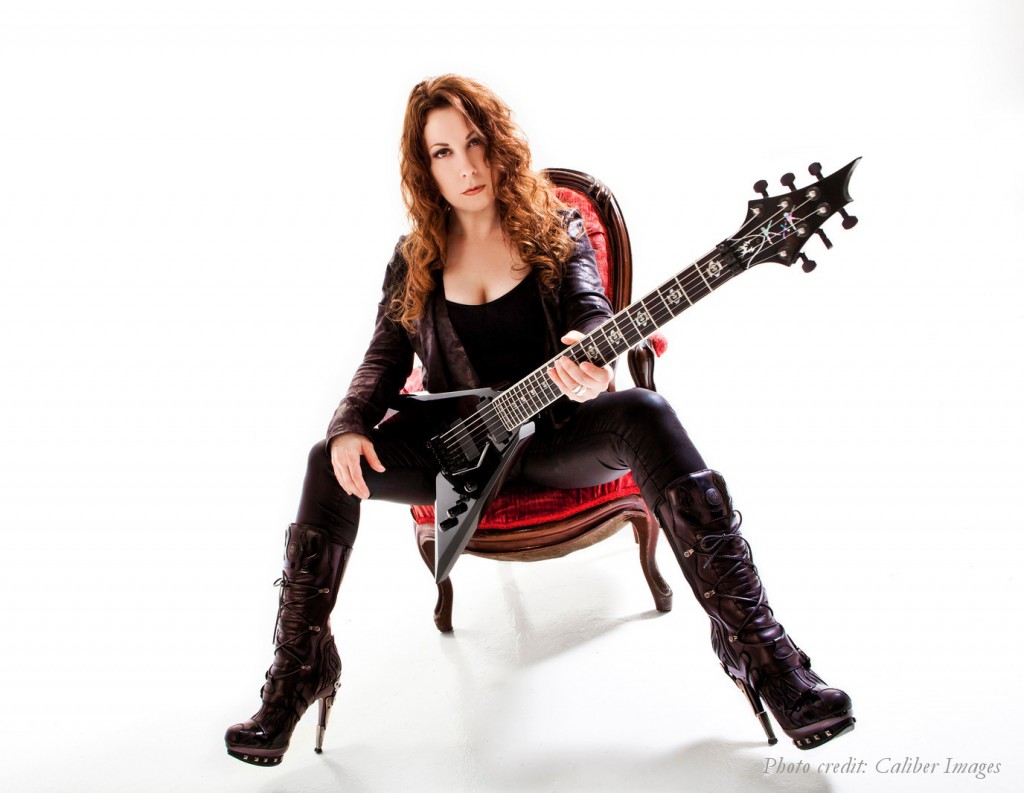 QueensOfMetal.com: How did you start playing music? Was guitar your first instrument?
Laura Christine: I started playing music in the 3rd grade, when I was required to play the recorder, of all things, for music class. That was my intro to reading and playing music. The following year, I went on to the flute in my elementary school band. When I turned 16, I discovered guitar and developed an immediate fascination. Coincidently, a guy at my high school was selling his acoustic guitar for 25 bucks which I bought with some X-mas cash. He threw in a Mel Bay Guitar Instruction Chord book free and I began teaching myself. I was hooked.
QueensOfMetal.com: For how long have you been listening to metal? What are your influences, both in terms of music and guitar style?
Laura Christine: I've been listening to metal for over 20 years. My early influences were bands like Metallica, Slayer, Megadeth, Pantera, Morbid Angel, Cannibal Corpse, etc. My favorite style is technical metal and death metal. But I love a ton of different styles, everything from classical to blues.

QueensOfMetal.com: Could you tell us about your band Warface? What are your short and long term plans?
Laura Christine: Warface is a death metal three-piece, based out of San Diego, CA, formed by myself and Warface bassist Dave Smith in 2000. Warface has always had the goal of creating and delivering high intensity, catchy, pummelling, exciting extreme music and making it accessible for as many metalheads as as possible. Our long term goal would be to keep creating, playing and delivering exciting, next level extreme metal for as long as possible for as many metalheads as we can reach.
QueensOfMetal.com: You are also part of Meldrum and have recently released "Lifer" as a tribute to Michelle Meldrum. Could you tell me more about it and how the album turned out?
Laura Christine: The album "Lifer" was released on Reversed Records out of Canada and available in both digital and hardcopy formats. I originally joined Meldrum as the bassist. Michelle was the guitarist and band leader/founder (seriously one of the coolest, most amazing, fun and funniest people on the planet as well as an amazing guitar player) and she passed away right after we finished tracking only the drums for the record. Tragically, she passed before she could record her guitar parts. It was so sudden and such a complete shock. She seemed to be in perfect health. She had a cyst on her brain that no one knew about. She fell asleep and basically never woke up. It was devastating. It was decided that the album would be finished and completed in tribute to Michelle and her vision for this album. I was asked to record the guitars in her honor as well as my bass parts, which I did. She is and will always be one of my heroes. We wanted to do what we could to honor her, her memory and her last vision of the band.
QueensOfMetal.com: It is a tragic loss indeed. Finishing the album is such a great tribute to her, big kudos for all the Meldrum members! For our readers, here is the iTunes link. And here is the teaser video on YouTube.
You had the chance to work or play with very valuable and well known musicians in the industry. Is there any specific one that still puts a smile on your face when you remember it? Have you ever had a chance to work with any of your idols?
Laura Christine: Everyone of them put a big smile on my face. It is one of the best feelings and honors to be able to work with or play with someone who has inspired you over the years. Before Dimebag Darrell passed away, it was always my dream to someday work with him or have a band that went on the road with his band. The list of musicians in metal that I'd love to work with is huge. At this time, I'm just extremely grateful for those I have had the opportunity to work with.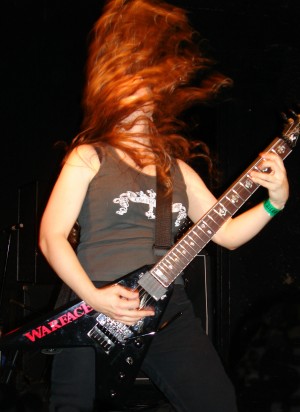 QueensOfMetal.com: You are also a guitar teacher. How long have you been teaching? Do you teach online or in person?
Laura Christine: I teach in person at my studio in San Diego and a little online. I've been teaching on and off for over 10 years.
QueensOfMetal.com: Our readers, if you are interested in getting a lesson from Laura, contact her through her website! We will give all of her links at the bottom of this interview.
Now a couple of questions about your style. How would you describe your style? Are there any favorite techniques you like to use in rhythm playing or soloing?
Laura Christine: Overall, I would describe my style as very aggressive and from the heart. I play everything from extreme metal to classical to blues to rock, etc. However, the style I am always most passionate and excited about playing is my favorite style, metal! I love playing technical and extreme metal, Death Metal. I love soloing and shred that specifically expresses feel and soul. I have many favorite techniques, and I've posted a couple of them on my YouTube channel. When I play, I'm never just going through the motions; I stand for kicking as much ass as possible as well as allowing my honest emotion to be expressed. The good, the bad and the ugly.
QueensOfMetal.com: Do you have a favorite practice routine that you follow?
Laura Christine: I used to have one, but not as much now. I play guitar for a living so it's always in my hands throughout the day, everyday. I don't have a set practice schedule at this moment although I would like to have one. Anytime I have a free moment, I pick up my guitar. I've noticed that my mood is always better when I've been practicing my guitar for an extended period of time.
QueensOfMetal.com: How about writing? Do you prefer writing by yourself or with another person or full band?
Laura Christine: I've always done both, written by myself as well as written in a band setting. I love both as they both have their advantages and disadvantages. When you are by yourself writing, you get to do everything your way and the way you want it to sound; you don't have to answer to someone else telling you "no" don't play that, play something else. But on the other hand, writing with your band mates, can also be really fun and exciting especially when everyone is on the same page and there's excellent chemistry and the writing just flows. You get to feed off of each other's enthusiasm and constructive input. Most of my experience has been me writing and arranging the riffs at home, bringing them to the studio and band as a whole turning the riffs and arrangement into songs.
QueensOfMetal.com: Any advice for young metal guitarists out there? Any advice for girls getting into metal specifically, speaking from your experience?
Laura Christine: Learn your instrument and get your chops together. When you get on stage or go to band practice or the studio, don't think about the fact of whether you're a guy or a girl in metal, think about how much ass you can kick musically when you're there. Think about destroying and giving the most ball-crushing, intense performance of your life. For me metal is not about gender, it's about an attitude, sonically and in life. That's my philosophy. You're up there to play metal, attempt to take metal to another level of greatness and/or at least help preserve what is godly about metal. Know the scene, its history. Don't go out there and half-ass it or go through the motions. Live it, breathe it, and bleed it from your instrument.
QueensOfMetal.com: Definitely great advice! Metal is a music style you have to breathe and live for sure!
On your website you are mentioning a new project on the go, which will have a name in 2013. Is there anything else that you could share with us?
Laura Christine: I will say that I'm extremely happy with how things are going. I am looking forward to giving more details when I can, however I am unable to divulge any extra info about it at the moment.
QueensOfMetal.com: And just to know you a little more, some questions just for fun

Q As you are interested Quantum Physics, this question came to my mind. If you were to study with a scientist, who would you want to work with? (past or present)
Laura: I would love to work with Pythagoras. He was so far ahead of his time.
Q Who is your favorite cartoon character?
Laura: Bugs Bunny and SpongeBob.
Q What is your favorite dish to cook? Or to eat?
Laura: I know my way around the kitchen and cooking and seasonings. One of my favourite meals to make doesn't involve cooking per say. I love whipping together a bad-ass salad. Salads that are hearty, packed with amazing flavor that are super healthy and extremely filling and energizing. Sushi is one of my favorite foods. I'm a bit of a health nut, however I like to visit the dark side and eat some unhealthy food on occasion.
Q What is your favorite horror movie of all times?
Laura: That's a tough one. I'm going to say the original Evil Dead movie from 80's only because it was the first horror movie I ever saw and I absolutely loved it.
QueensOfMetal.com: Thanks a lot for sparing time for us. We are hoping to bring together successful guitar players of this genre like you and create an environment for many musicians to come. Is there anything else you would like to say to our followers?
Laura Christine: Thanks for getting in touch with and following this amazing website. Stay tuned, cuz I know it's gonna get more amazing! Thank you very much to QueensofMetal.com for all the support you give to women & metal! You rule! Hails and metal salutes to all the metal fans and musicians out there. You are Gods! Keep it heavy and stay in touch with me at:
www.laurachristinemusic.com
www.facebook.com/laurachristinemusic
twitter.com/laurachristinem
www.youtube.com/laurachristinemusic
Cheers!