The founder, vocalist and rhythm guitar player of the Polish metal band Crystal Viper, Marta Gabriel has been announced as a guest player for the legendary U.S. Power Metal act Jack Starr's Burning Starr. We found this a good excuse to have a chat with her and learn more about her and her band, which has been around since 2003 and released 4 full length albums as well as a few singles and played a lot of festivals around Europe.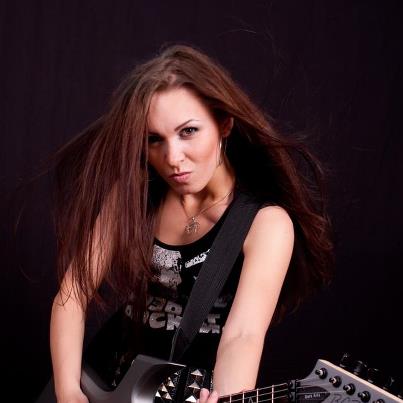 QueensOfMetal.com You are founder of the band Crystal Viper. Could you also tell us more about your band?
Marta Gabriel: Crystal Viper started when I decided to make my biggest dream coming true – to create a real, heavy metal band, with dedicated musicians, and kickin' ass music! To define my band in a few words: Crystal Viper is a powerful female fronted heavy metal bomb, inspired by bands such as Mercyful Fate, Candlemass, King Diamond, Nifelheim, Judas Priest and the whole NWOBHM… Come and see us live – and you'll never forget it.

QoM.com You have a lot of guests musicians in your 3rd and 4th album recordings. Who did you work with?
Marta: You know, it is important for us to show our fans where our roots are, and inviting special guests is a great way to do this. We always work with musicians that are important for us, who influenced us or we are friends with. On our last album "Crimen Excepta" you can hear Peter Wiwczarek (Vader) and David Bower (Hell). For our previous album "Legends" we invited Stefan Kauffmann (U.D.O. ,ex-Accept), our friends from Wizard – Sven D'Anna & Dano Boland, and Mat Sinner (Sinner, Primal Fear). For "Metal Nation" we invited Frank Knight (X-Wild), Lars Ramcke (Stormwarrior), and Manni Schmidt (Grave Digger). Gerrit P.Mutz of Sacred Steel recorded a spoken intro for our debut album. We also had a pleasure to record Virgin Steele's cover song "Blood And Gasoline" with David DeFeis and Josh Block. But except Crystal Viper I recorded vocals or orchestrations for bands such as Lonewolf, Wild Knight, Jack Starr's Burning Starr and Midnight Priest.
QoM.com You are signed with AFM records right now. How is the experience different working with a label company than do-it-yourself?
Marta: It's a huge difference. Now we work with people who has been working with bands for a long time, they exactly know what to do, they do great promotion, and have very good distribution. Now our fans don't have problems with finding our albums – last one, as well as our first two albums, as AFM just re-released them. It's really great to be part of AFM family, they are huge fans of metal music, what to want more?
QoM.com What are your short term plans as Crystal Viper? Do you have any other projects that you are planning to work on?
Marta: Now we focus on playing live, but in few weeks I will start writing new Crystal Viper album, I have many ideas for it already. There are also some music projects that I'm involved in, but I can't tell any details right now. Expect music I've also started my own brand Thunderball Clothing, as I love to design and sew original rock clothes which you won't find in normal stores. Please visit my facebook page to know more at
facebook.com/thunderballclothing
QoM.com How long have you been playing guitar?
Marta: I started playing guitar few years ago, to be able to compose and arrange songs. Before I started playing guitar, I composed all songs with my piano, but it wasn't enough for me. Also as beeing a musician it is important to learn new things, to get new skills for all the time. Playing one instrument would be very boring.
QoM.com When did you start listening metal? Who are your main influences, for both vocals and guitars?
Marta: I fell in love with metal music as a teenager, as far as I remember,
very first heavy metal bands I listened to were Virgin Steele, Iron Maiden, Black Sabbath, Diamond Head and Judas Priest. But earlier I was listening to a lot of rock bands such as Scorpions, Queen, Led Zeppelin, there was a lot of different music in my house. My favourite metal vocalists have always been Tony Martin, Rob Halford, Leather Leone, Jutta Weinhold, Doro, Dio, David DeFeis. My guitar heroes are Glenn Tipton, Janick Gers, Gary Moore and Mike Oldfield.
QoM.com Could you also tell us about your gear? What setup do you use live and in the studio?
Marta: While recording vocals I like everything to be as natural as it could be, I mean no fake tuning, no copying and so on, and I think it is similar with guitars and other gear: please give me a good flying v guitar, Marshall amp and cabinet, and you'll get a kickin' ass heavy metal album. Classic stuff is timeless. I use various guitars, such as Dean, Jackson, B.C. Rich and Schecter, the same with amps.
QoM.com You have been announced as live guitar player for Jack Starr's Burning Starr. Could you please tell us more about that? What shows are waiting for
Marta: I'm so proud and excited that I have possibility to work with them! They are very talented musicians, and Jack Starr played in Virgin Steele in the past, in one of my favorite bands ever… I will play with them at next edition of Keep It True, and other European live shows. I can't wait for it!
QoM.com Is there anything else you would like to say to the readers of QueensOfMetal.com?
Marta: Yes, go to your music store, buy few good heavy metal albums, and let your neighbors listen to the best music on earth! Metallic regards to all metal maniacs!